AZRIELI SARONA
The Best of Luxury Fashion & LifeStyle
AZRIELI GROUPE AND BARNES ISRAËL ARE PROUD TO PRESENT THE NEXT GENERATION OF TOWERS AND BOUTIQUE LUXURIOUS MALL – THE ONLY UPSCALE TOWER AND BOUTIQUE LUXURIOUS MALL IN ISRAEL.
Tel Aviv is a city where everything happens, where it grows and set trends.
Tel Aviv is the city that set every time the next big thing and attracts spend from all over the country.
Tel Aviv shopping experience is the true urban experience, which allows to observe the atmosphere and rub shoulders with people and places that shape the fashion and leisure cloture in Israel.
OPTIMAL ACCESSIBILITY
Azrieli Sarona characterized by excellent accessibility which will leverage the flow and number of visitors.
Arriving by foot – A short walk for about 80,000 residence and for casual nearby streets.
Arriving by car – Convenient Parking of 2500 spaces in seven levels. Close proximity to major high ways such as Ayalon freeway and Namir Begin St.
Public transport – proximity to Hashalom train station at nearby Azrieli center, all major bus lines, taxi station on site, red line of the planed Tel Aviv metro rail soon to be open.
ABOVE THE SARONA CITY QUARTER
The perfect atmosphere above the red roofs, art galleries and green trees, obtained thanks to the launch of the Tower Park complex Sarona restored historic.
Sarona Azrieli Tower is located on the eastern side of the compound Sarona – one of the most popular areas of entertainment, business and shopping in the city.
INTERNATIONAL BUSINESS ENVIRONMENT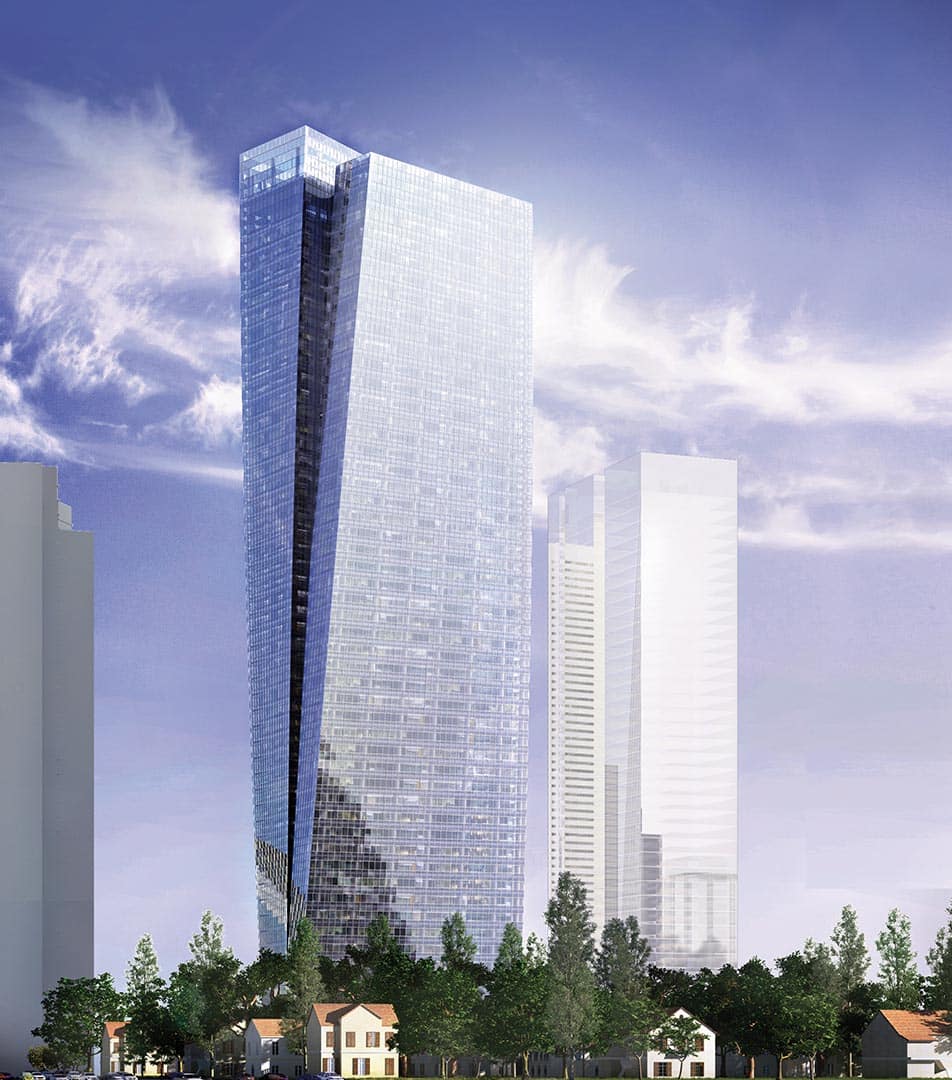 GROUND BRAKING ARCHITECTURE
Azrieli Sarona Tower will be built at the base of the big business and most innovative established so far in Israel- Azrieli Tower Sarona.
The tower takes another step forward in the excellence that characterizes the Azrieli brand office towers in Israel. Azrieli Sarona built to the highest standards, the most stringent contraction standards, when the main idea of the design is the simplicity and innovative office tower break thru in design and quality.
The tower will rise a mighty 250 meters as well as revolutionary floor area of 2,500 sqm.
Sarona Azrieli tower will offer an international business environment and will be the main linkage between Israel and the global business world, of which most influential domestic and international firms that will reside and develop their headquarters at the tower.
AZRIELI SARONA SHOPPING CENTER
First of its kind luxurious boutique shopping mall in Tel Aviv which brings a new line unique texture of the city and its fashion scene.
Precise mall of the finest shops, designers and restaurants in the country.
SMART PARKING
Available to employees and visitors parking tower and mall will be advanced a computerized control systems. Parking garage will be built seven levels of underground parking easily accessible from all surrounding streets. A designated parking area for motorcycles, scooters and bicycles will be regulated and free of charge.
FACTS & FIGURES
250m high office tower
100,000 sqm tower of premium office space
10,000 sqm boutique luxurious mall
3 commercial levels
120 luxury stores and fine dining
Over 80,000 nearby luxurious residence
Over 500,000 Tel Aviv population
Over 1 million tourists annually